Arizona Wildcats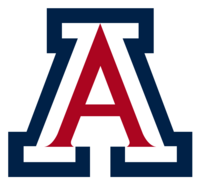 Established in 1885
Names
Arizona Wildcats (2017-present)
Other Nicknames
'Cats, 'Zona
Conference
Pac-12 Conference
Location
Tucson, Arizona
Colors
Cardinal and Navy
Head Coaches
Stadium
CFP National Championships
None
Conference Championships
None
The University of Arizona is a NFCAA accredited university in Tucson, Arizona and a member of the Pac-12 Conference. Chartered in 1885, it was awarded to the city of Tucson and became the Arizona Territory's only university (Arizona State was also founded in 1885 but was considered a normal school and not a university). The first building, Old Main, was built in 1887, and classes opened in 1891. The University of Arizona's athletic teams, the Wildcats, compete in the NFCAA's Pac-12 Conference, which they joined in 1978.
The Wildcats' football team has been competing since 1899. They were simply called "Varsity" in their early years, until in 1914, a Los Angeles Times correspondent wrote that "The Arizona men had shown the fight of wildcats," despite losing to Occidental 14-0, a football power in California at the time. The football team has been playing at Arizona Stadium since 1929. The school colors are cardinal and navy.
Traditions
[
edit
]
The university's unofficial motto is "Bear Down" or "Bear Down, Arizona!" This was created in 1926 by John "Button" Salmon, who was the football team's starting quarterback. Before the 1926 season, Salmon was involved in a nasty car accident and suffered a spinal injury. His last message to his teammates before he died was, "Tell them... tell the team to bear down." Since then, "Bear Down" has been the slogan of all the Wildcat athletic teams.
Death of Brock Boldbuck
[
edit
]
(Main Article: Brock Boldbuck)
In the second quarter of the football team's first game under head coach Babatunde Oladotun, junior quarterback Brock Boldbuck, the team's starter going into the season, was sacked ruthlessly by a slew of Stanford defenders. The Stanford defenders picked up the ball and returned it for a touchdown, while Boldbuck had been sacked so hard his head detached from his body and he was proclaimed dead immediately. His younger brother, freshman Brady Boldbuck, would become the team's new starter. Brock's death was later revealed to be a combination of the sack and eating too much sauce, as his blood sauce levels were far too high to be playing football, resulting in an unofficial NFCAA investigation regarding whether or not sauce is a performance-enhancing drug. Arizona went on to win the game 38-24; Oladotun dedicated the win to Brock.
Rivalry Games
[
edit
]
Logo History
[
edit
]
Not available
Records
[
edit
]
Not available
2018 Fake Schedule
[
edit
]
Football Roster
[
edit
]
Starters
Offense
| | | | | |
| --- | --- | --- | --- | --- |
| Num | Name | Pos | Year | Hometown |
| 12 | Brady Boldbuck | QB | Fr | Mesa, AZ |
| 7 | Elyjah McKinney | HB | Sr | Las Vegas, NV |
| 45 | Daniel Dement | FB | Sr | Rusk, TX |
| 79 | Nolan Hayes | LT | Sr | Frisco, TX |
| 71 | Anson McMullen | LG | Sr | Chandler, AZ |
| 77 | Ryder Wolfkiller | C | Jr | Moreno Valley, CA |
| 75 | Blade Uppercut | RG | Jr | Philadelphia, PA |
| 78 | Axel Ford | RT | Sr | Oceanside, CA |
| 5 | Marquis Woods | WR | Sr | Suwanee, GA |
| 1 | Wilde Baller | WR | Sr | Chino Hills, CA |
| 82 | Zhaire Gamble | WR | Jr | San Bernardino, CA |
| 14 | Malik Whitaker | WR | Fr | Tucson, AZ |
| 8 | John Archdeacon | WR | Fr | Santa Clara, CA |
| 84 | Jaylen Tucker | TE | Fr | Fresno, CA |
| 7 | Dagger Bearkiller | K | Sr | Alliance, NE |
| 6 | Fotball Stuf | P | Jr | Boulder, CO |
| 34 | Abayomi Oladotun | LS | Fr | Tucson, AZ |

Defense
| | | | | |
| --- | --- | --- | --- | --- |
| Num | Name | Pos | Year | Hometown |
| 90 | Ace Stonetipher | LE | Jr | Chandler, AZ |
| 98 | Damon Walsh | DL | Sr | Calabasas, CA |
| 99 | D'Ante Russell | DL | Jr | Inglewood, CA |
| 96 | Julius Kizer | RE | Jr | Rome, GA |
| 56 | Kendrick McDonald | OLB | Sr | Oakland, CA |
| 56 | Mahlik Murphy | MLB | Fr | Allen, TX |
| 55 | Hunter Smucker | OLB | Jr | Lancaster, PA |
| 32 | Cornelius McAllister | CB | Sr | Compton, CA |
| 40 | Kamoni Joyner | CB | Jr | Missouri City, TX |
| 29 | Tommy "Too Much" Sauce | FS | Sr | Boulder, CO |
| 28 | Phoenix Edgerton | SS | Sr | Asheville, NC |
| 18 | Maverick Deathrage | KR | Fr | Shawnee, OK |
| 17 | Dash Dillard | PR | Sph | Springdale, AR |
Deceased