Arkansas Razorbacks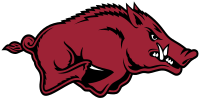 Established in 1871
Names
Arkansas Razorbacks
Other Nicknames
Hawgs, ARKY, UofA, UARK, UA
Conference
SEC
Location
Fayetteville, Arkansas
Colors
Cardinal and White
Head Coaches
E Squared (2018)
Ima Hoggany (2019 - Present)
Stadium
Donald W. Reynolds Razorback Stadium
National Championships
1964
College Football Playoff Appearances
None
Conference Championships
1936, 1946, 1954, 1959, 1960, 1961, 1964, 1965, 1968, 1975, 1979, 1988, 1989
The University of Arkansas (U of A, UARK, or UA) is a public land-grant, research university in Fayetteville, Arkansas. It is the flagship campus of the University of Arkansas System and the largest, best-known university in the state. Founded as Arkansas Industrial University in 1871, its present name was adopted in 1899 and classes were first held on January 22, 1872. It is noted for its strong architecture, agriculture (particularly animal science and poultry science), business, communication disorders, creative writing, history, law, and Middle Eastern studies programs.
Enrollment for the fall semester of 2017 was 27,558. The university campus consists of 378 buildings spread across 512 acres (2.07 km2) of land in Fayetteville, Arkansas. Some well known architecture on campus includes Old Main, the first permanent academic building erected. Academic programs are in excess of 200. The ratio of students to faculty is approximately 19:1. The university also received a combined total of $103.2 million in research awards for the 2017 fiscal year.
UA's athletic teams, the Arkansas Razorbacks, compete in NCAA Division I as members of the Southeastern Conference (SEC) with eight men's teams and eleven women's teams in thirteen sports. The University is known for its traditions, including Calling the Hogs at sports events, and Senior Walk, 3.5 miles (5.6 km) of campus sidewalk etched with the names of all UA graduates since 1871. The University of Arkansas has a strong Greek life tradition, including the founding chapter of the Chi Omega sorority, and the largest fraternity chapter in North America, Kappa Sigma.
The Arkansas Razorbacks football program represents the University of Arkansas, located in Fayetteville, Arkansas, in the sport of American football. The Razorbacks compete in the Football Bowl Subdivision (FBS) of the National Fake Collegiate Athletic Association (NFCAA) and the Western Division of the Southeastern Conference (SEC). The program has 1 claimed national championship awarded by the Football Writers Association of America (FWAA) and Helms Athletic Foundation (HAF) in 1964, 1 unclaimed national championship awarded by the Foundation for the Analysis of Competitions and Tournaments (FACT) in 1977, 13 conference championships, 45 All-Americans, and an all-time record of 701–475–40. The Razorbacks are the 23rd-ranked team in college football history by total number of wins. Home games are played at locations on or near the two largest campuses of the University of Arkansas System: Donald W. Reynolds Razorback Stadium in Fayetteville, and War Memorial Stadium in Little Rock.
Traditions
[
edit
]
Who Let The Hogs Out - Upon hiring Coach Hoggany, the Univeristy of Arkansas was contacted by Jerry Jones alerting them that he had bought the rights to the Baja Men song Who Let The Dogs Out. Jones told the university that if they don't play the new version of the song, Who Let The Hogs Out at least 10 times per game he would sue the university for misuse of his song. Thus began the most important of all of Arkansas' traditions.
Tusk - The live mascot that represents the Razorbacks today is no barnyard pig. Tusk IV, the hairy hog that attends all Razorback home football games, is a Russian boar, which closely resembles the wild hogs known as razorbacks native to the Arkansas wilderness. These razorbacks are tough and at times ill-tempered — animals whose fearlessness and doggedness were the inspiration for the Razorback nickname. The tradition of having a live Razorback mascot has been a fan favorite since the university's first hooved beast made its debut in the 1960s.
Calling The Hogs - The Hog Call is one of the most recognizable chants in all of sports. Here are the basics:
1. Raise your arms above your head during the The Hog Call, yell "Wooo" and wiggle your fingers for a few seconds.
2. Next, bring both arms straight down with fists clinched while yelling, "Pig."
3. Then extend your right arm with the "Sooie."
4. Repeat these steps two more times and finish by yelling
5. "Razor-Backs" like this: 
   Wooooooooo. Pig. Sooie!
   Wooooooooo. Pig. Sooie!
   Wooooooooo. Pig. Sooie! Razorbacks!

Senior Walk - The U of A boasts one of the most unique traditions found on any campus: Senior Walk, consisting of more than 5 miles of sidewalks engraved with the names of more than 175,000 University of Arkansas graduates, dating back to 1876. It's the university's longest tradition, at least in terms of mileage. Senior Walk is concrete proof of the university's commitment to students.
Spoofer's Stone - During the early history of the university, male and female students were not allowed to mingle. In those days, students sometimes left love notes tucked into crevices of a limestone rock near Old Main. As time wore on, Spoofer's Stone became a popular site for marriage proposals.
Rivalry Games
[
edit
]
| Rivalry Game | Opponent | Streak | Record |
| --- | --- | --- | --- |
| Arkansas-Ole Miss | Ole Miss | Won 1 | 1-0 |
| Battle for the Golden Boot | LSU | Lost 1 | 0-1 |
| Arkansas-Texas Rivalry | Texas | | |
| The Southwest Classic | Texas A&M | Won 1 | 1-1 |
| Battle Line Rivalry | Missouri | Won 1 | 1-0 |
Coaching History
[
edit
]
E Squared (2018)
Ima Hoggany (2019-Present)
Ima Hoggany is a rookie coach from Dallas, Texas. He was personally contacted by Jerry Jones to take over Arkansas' vacant head coaching position under the stipulation that Coach Hoggany start John Stephen Jones, Jerry's grandson, in every game. In a later interview Mr. Jones said he heard about Coach Hoggany from his previous position as the waterboy for the Chicago Sky and knew that he would be the perfect man for the job.
Records
[
edit
]
Overall Record: 10-9
Bowl Record: 0-1
Home Record: 4-2
Away Record: 2-4
Consecutive Home Wins: 2
2019 Fake Schedule
[
edit
]
2018 Fake Schedule
[
edit
]
Football Roster
[
edit
]
Starters
Offense
Number
Name
Position
Year
Season Stats
Career Stats
66
John Stephen Jones
QB
FR

571 Passing Yards
75.0% Pass Completion
79.2 QBR
1 Passing Touchdown
3 Interceptions
81 Rushing Yards

62
Felix Jones Jr.
RB
SR

348 Rushing Yards
6 Rushing Touchdowns
155 Receiving Yards
14 Receptions
1 Receiving Touchdown
1 Fumble

27
William Clinton
WR
JR

82 Receiving Yards
22 Receptions
48 Rushing Yards

8
Jonathan Cash
WR
SR

89 Receiving Yards
12 Receptions
62 Rushing Yards
2 Rushing Touchdowns

93
Xavier Woods
WR
SR

164 Receiving Yards
13 Receptions
99 Rushing Yards
2 Rushing Touchdowns

44
Doug MacArthur
TE
SO

81 Receiving Yards
14 Receptions
43 Rushing Yards
1 Rushing Touchdown

85
Ry Back
LT
JR
60
Dang Nabbit
LG
SO
25
Terrance McGillicuddy
OC
FR
71
Keith Bryant
RG
SR
6
James McCardy
RT
SR
Defense
Number
Name
Position
Year
Season Stats
Career Stats
77
MC Hammer
DL
SR

14 Tackles
3 Tackles For Loss

51
Torrance McGillicuddy
DL
SR

19 Tackles
2 Fumbles Recovered

88
Lil Rock
DL
SO
11 Tackles
22
Titus Andromedan
DL
FR

15 Tackles
1 Tackle For Loss

34
Damien Froten
ROLB
FR

11 Tackles
1 Fumble Recovered

24
Ergo Nomic
MLB
FR

14 Tackles
3 Tackles For Loss

17
Sly Stone
LOLB
JR

13 Tackles
2 Tackles For Loss

2
Telia Smith
SS
SO

10 Tackles
1 Tackle For Loss
1 Interception
1 Forced Fumble

95
Al Green
FS
SO

12 Tackles
2 Tackles For Loss
1 Punt Blocked

39
Bobby Newport
CB
SR
78
Korgan Bluz
CB
JR

11 Tackles
1 Tackle For Loss
1 Forced Fumble
Special Teams
Number
Name
Position
Year
Season Stats
Career Stats
99
Big Foote
K
FR

1/4 Field Goals
12/12 Extra Points
53 Yard Field Goal

31
Punty McPunterson
P
JR
49.3 Yard Average Punt
27
William Clinton
PR
JR
62
Felix Jones Jr.
KR
SR
1 Kick Muff
School Records
[
edit
]
Due to a lack of reliable records for the 2018 season not every record is accurate or available at this time. New statistics and records will be kept starting with the 2019 season.
Team Records
| Record Title | Record | Team |
| --- | --- | --- |
| Team PPG | 34.7 | 2018 |
| Team Opponent PPG | 34.2 | 2018 |
| Team YPG | 364.5 | 2018 |
| Team Opponent YPG | 332.7 | 2018 |
| Team TO Difference | -7 | 2018 |
Offensive Game Records
| Record Title | Record | Player | Year |
| --- | --- | --- | --- |
| Pass Yards | 203 | John Stephen Jones | Week 2, 2018 |
| Pass Touchdowns | 1 | John Stephen Jones | Week 2, 2019 |
| Completion Percentage | 95.2% | John Stephen Jones | Week 4, 2019 |
| QB Rating | 101.5 | John Stephen Jones | Week 4, 2019 |
| Rush Yards | 196 | Felix Jones Jr. | Week 3, 2019 |
| Rush Touchdowns | 4 | Felix Jones Jr. | Week 3, 2019 |
| Receptions | 9 | William Clinton | Week 2, 2019 |
| Receiving Yards | 80 | Felix Jones Jr. | Week 2, 2019 |
| Receiving Touchdowns | 1 | Felix Jones Jr. | Week 2, 2019 |
Defensive Game Records
| Record Title | Record | Player | Year |
| --- | --- | --- | --- |
| Tackles | 10 | Torrance McGillicuddy | Week 1, 2019 |
| Sacks | | | |
| Fumbles Recovered | 1 | Torrance McGillicuddy | Week 3, 2019 |
| Interceptions | 1 | Telia Smith | Week 1, 2019 |
| Fumbles Forced | 1 | Telia Smith | Week 4, 2019 |
Special Teams Game Records
| Record Title | Record | Player | Year |
| --- | --- | --- | --- |
| Field Goals | 1 | Big Foote | Week 3, 2019 |
| Kick Return Touchdowns | | | |
| Punt Return Touchdowns | | | |
Offensive Season Records
| Record Title | Record | Player | Year |
| --- | --- | --- | --- |
| Pass Yards | | | |
| Pass Touchdowns | | | |
| Completion Percentage | | | |
| QB Rating | | | |
| Rush Yards | | | |
| Rush Touchdowns | | | |
| Receptions | | | |
| Receiving Yards | | | |
| Receiving Touchdowns | | | |
Defensive Season Records
| Record Title | Record | Player | Year |
| --- | --- | --- | --- |
| Tackles | | | |
| Sacks | | | |
| Fumbles Recovered | | | |
| Interceptions | | | |
| Fumbles Forced | | | |
Special Teams Season Records
| Record Title | Record | Player | Year |
| --- | --- | --- | --- |
| Field Goals | | | |
| Kick Return Touchdowns | | | |
| Punt Return Touchdowns | | | |
Career Offensive Records
| Record Title | Record | Player | Year |
| --- | --- | --- | --- |
| Pass Yards | | | |
| Pass Touchdowns | | | |
| Completion Percentage | | | |
| QB Rating | | | |
| Rush Yards | | | |
| Rush Touchdowns | | | |
| Receptions | | | |
| Receiving Yards | | | |
| Receiving Touchdowns | | | |
Career Defensive Records
| Record Title | Record | Player | Years |
| --- | --- | --- | --- |
| Tackles | | | |
| Sacks | | | |
| Fumbles Recovered | | | |
| Interceptions | | | |
| Fumbles Forced | | | |
Career Special Teams Records
| Record Title | Record | Player | Years |
| --- | --- | --- | --- |
| Field Goals | | | |
| Kick Return Touchdowns | | | |
| Punt Return Touchdowns | | | |
Coaching Records
| Record Title | Record | Coach | Years |
| --- | --- | --- | --- |
| Wins | 6 | Coach E Squared | 2018 |
| National Championships | | | |
| Playoff Appearances | | | |
| Conference Championships | | | |
| Conference Championship Appearances | | | |
| Bowl Wins | | | |
| Bowl Appearances | 1 | Coach E Squared | 2018 |
| Rivalry Wins | 2 | Coach E Squared | 2018 |