Miami Redhawks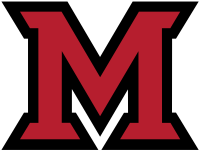 Established in 1809
Names
Miami RedHawks (2018-present)
Other Nicknames
'Hawks, Miami of Ohio
Conference
Mid-American Conference
Location
Oxford, Ohio
Colors
Red and White
Head Coaches
Stadium
CFP National Championships
None
College Football Playoffs Appearances
None
Conference Championships
None
Miami University is an NFCAA accredited university in Oxford, Ohio and a member of the Mid-American Conference. Established in 1809, Miami is the second-oldest university in Ohio and the tenth oldest public university in the United States. Miami is also one of the original eight Public Ivy schools. Miami's athletic teams, the RedHawks, compete in the NFCAA and are a founding member of the Mid-American Conference and NFCAA.
Before the 1930s, Miami's athletic teams went by a number of different nicknames, including the Miami Boys, the Big Reds, and the Reds and Whites. In 1928, a Miami student referred to their team as the Big Red-Skinned Warriors, and the moniker eventually stuck. In 1931, Miami's athletic teams were officially known as the Redskins, and would continue to be known by that name for nearly seventy years. However, in 1997, at the behest of the Miami Tribe of Oklahoma, Miami officially changed their nickname to what it is today, the Miami RedHawks. Later, during the 1997-98 basketball season, Swoop the RedHawk was officially revealed as Miami's mascot during a basketball game.
Miami is also known as the Cradle of Coaches, boasting many coaches who spent their formative years at Miami to go on to great success elsewhere, including the likes of Ara Parseghian, Bill Mallory, Woody Hayes, and Bo Schembechler. Two coaches have had the pleasure of coaching the Miami RedHawks in NFCAA Football competition: Chuck Blasi and Doc JaAm.