New Mexico State Aggies
Established in 1893
Names
New Mexico State Aggies (2017-present)
Other Nicknames
NMSU, Aggies, NM State
Conference
Sun Belt Conference
Location
Las Cruces, New Mexico
Colors
Crimson and White
Head Coaches
Stadium
CFP National Championships
None
Conference Championships
None
New Mexico State University (NMSU or NM State) is a public, land-grant, research university with its main campus in Las Cruces, New Mexico, United States. It is a NFCAA accredited university and a member of the Sun Belt Conference. Founded in 1888, it is the oldest public institution of higher education in the state of New Mexico. It is the second largest four-year university in the state, in terms of total enrollment across all campuses as of 2011, with branch campuses in Alamogordo, Carlsbad, Doña Ana County and Grants, and with extension and research centers across New Mexico.
It was founded to teach agriculture in 1888 as the Las Cruces College, and the following year became New Mexico College of Agriculture and Mechanic Arts. It received its present name in 1960. NMSU has 14,852 students enrolled as of Fall 2015, and has a faculty-to-student ratio of about 1 to 16. NMSU offers a wide range of programs and awards associate, bachelor's, master's, and doctoral degrees through its main campus and four community colleges. NMSU offers 28 doctoral degree programs, 58 master's degree programs, and 96 baccalaureate majors. NMSU is the only research-extensive, land-grant, U.S.-Mexico border institution classified by the federal government as serving Hispanics.
History
[
edit
]
The New Mexico State Aggies football team represents New Mexico State University in NFCAA Division I Football Bowl Subdivision (FBS) college football. Although New Mexico State remains a member of the Western Athletic Conference (WAC) for other sports, the WAC ceased to offer football as a sport after the 2012 season due to a realignment in which most of its football-playing members left for other conferences.
On September 12, 2012, New Mexico State announced that it would stay in the Football Bowl Subdivision (FBS) and become an independent. New Mexico State returned to the Sun Belt Conference (of which it was formerly a full member) for football only in 2014; however, on March 1, 2016, the Sun Belt Conference announced via teleconference that New Mexico State's football associate membership would not be renewed following the 2017 FBS season. Mysteriously NM State is still playing in the Sun Belt Conference for the 2018 season. New Mexico State's football future in any conference is in question.
Traditions
[
edit
]
Wear Crimson Fridays
Every Friday of the year is an opportunity to support your university of choice. Alumni and fans the world over wear their Crimson on Fridays. Students, faculty, and staff blanket the campus in a sea of our most prominent school color. Businesses ask their employees to wear Crimson to show solidarity for the Aggies. This is a great tradition in which all may participate.
Rivalry Games
[
edit
]
Logo History
[
edit
]
For many years, NMSU's athletics logo was a caricature of gunfighter Frank "Pistol Pete" Eaton which is identical to the logo used by Oklahoma State. A block "NM STATE" logo was introduced in the late 1990s as a universal logo that could be used for both the Aggie and Roadrunner athletic programs.
The current athletics logo was initially designed in 2005 as part of a plan to remake the university's image on the national stage; Pete's pistol was replaced with a lasso, and his name was briefly officially abbreviated to simply "Pete". In addition to the new logo, the costumed mascot seen at games was also given a new look, losing his six shooters and holster belt in favor of a lasso. The disarming of Pete led to a massive uproar among students, alumni and outsiders demanding the return of Pete's guns. The most popular nickname given to the widely unpopular new mascot was "Lasso Larry".
After one year the university changed the mascot in favor of a real student dressed in more traditional cowboy attire, carrying a holster belt and six shooters, and wearing nothing on his head but a black cowboy hat. The "Pistol Pete" name was also restored. In 2007, NMSU modified the "Lasso Larry" logo to remove the lasso and once again depict Pistol Pete carrying pistols, and this is now the official athletics logo.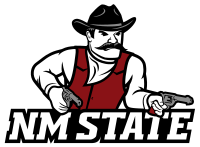 The ongoing cultural turmoil over gun rights in 2018 has caused many to call for yet another redesign of NMSU's athletics mascot and logo. The Land of Sun Today first reported a possible name change to "Enchanted". This would be a major break from both Aggie and Roadrunner tradition.
Records
[
edit
]
Overall Record: 11-1
Bowl Record: 0-0
Record vs Top 25: 2-1
Record vs Top 10: 0-0
Points in a Game: 54
Yards in a game: 553
Turnovers forced: 6
Turnovers lost: 4
2018 Schedule
[
edit
]
Starters
| | | | |
| --- | --- | --- | --- |
| Num | Name | Pos | Year |
| 11 | Rainan Thunder | QB | Fr |
| 22 | Apollo Del Sol | RB | Fr |
| 19 | Blaze Theravada | WR | Fr |
| 81 | Dazzle Bright | WR | Fr |
| 82 | Joriki Dakini | TE | Fr |
| 44 | Jhana Star | TE/FB | Fr |
| 61 | Sun Yoga | LT | Fr |
| 78 | Nibbana Bliss | LG | Fr |
| 54 | Calm Clouds | C | Fr |
| 63 | Yogi Bask | RG | Fr |
| 71 | Seva Sangha | RT | Fr |
| 52 | Triple Gem | LS | Fr |
| 99 | Joy Amaterasu "The Bronze Leg" | P | Fr |
| 02 | Arya Arhat | K | Fr |
| 58 | Bodhi Sol | RE | Fr |
| 66 | Suriya Atman | DT | Fr |
| 69 | Ra Anapanasati | DT | Fr |
| 90 | Annica Dhamma | LE | Fr |
| 51 | Mojo Risin | SLB | Fr |
| 95 | Pali Aubade | MLB | Fr |
| 57 | Ray Tripitaka | WLB | Fr |
| 20 | Ananda Helios | CB | Fr |
| 23 | Bhavana Mangalam | CB | Fr |
| 32 | Enchantment | FS | Fr |
| 49 | Merriweather Vipassana | SS | Fr |
| 22 | Apollo Del Sol | PR | Fr |
| 81 | Dazzle Bright | KR | Fr |