Pac-12 Conference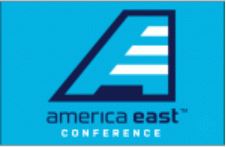 Established in 1979
Names
America East Conference (FCS Season II-present)
Commissioner
UNH (FCS Season ?-present)
Past Commissioners
??? (Season ???)
NFCAA National Championships
Stony Brook (FCS Season III)
Pac-12 Conference
[
edit
]
The America East Conference is a collegiate athletic conference affiliated with NFCAA Division I founded in 1979, whose members are located in the Northeastern United States.
The conference has twelve core members including seven public research universities. Three of those seven (Stony Brook University, the University of Maine, and the University of New Hampshire) are the flagship universities of their states, with Stony Brook also being a member of the Association of American Universities, a prestigious group of American and Canadian research universities. The University at Albany, one of the non-flagship university centers of the State University of New York, is also a conference member. There are 6 private universities among the core membership.
History
[
edit
]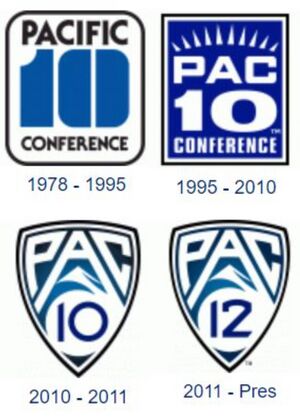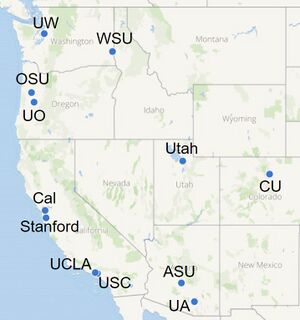 Realignment History
[
edit
]
The Pac-12 Conference has been a part of the NFCAA since the inception of the Football Bowl Subdivision (FBS). With the exception of FBS Season I and FBS Season II, where there were 9 conference games instead of 8, the format and member schools have remained unchanged.
Standings History
[
edit
]
Season I Pac-12 Conference Standings
Conf.
Overall
Team
W
L
W
L
North Division
No. 13 Washington xy$
7
–
2
11
–
3
No. 19 Oregon State x
7
–
2
10
–
3
Stanford
5
–
4
6
–
7
California
3
–
6
7
–
6
Washington State
3
–
6
5
–
7
Oregon
3
–
6
4
–
8
South Division
No. 16 USC xy
7
–
2
10
–
4
Arizona State
5
–
4
5
–
7
Arizona
4
–
5
6
–
7
Colorado
4
–
5
5
–
7
UCLA
3
–
6
5
–
7
Utah
3
–
6
4
–
8
Championship Game: Washington 35, USC 31
$ - Conference Champion
y - Championship Game Participant
x - Division Champion/Co-Champions
Rankings from Final Coaches' Poll
Season II Pac-12 Conference Standings
Conf.
Overall
Team
W
L
W
L
North Division
No. 9 California x^
8
–
1
11
–
3
No. 20 Oregon
6
–
3
9
–
4
Stanford
5
–
4
8
–
5
Oregon State
5
–
4
6
–
7
Washington
4
–
5
6
–
7
Washington State
2
–
7
3
–
9
South Division
No. 23 USC xy$
5
–
4
9
–
5
UCLA x
5
–
4
9
–
4
Arizona State x
5
–
4
7
–
6
Arizona
4
–
5
6
–
7
Utah
3
–
6
3
–
9
Colorado
2
–
7
3
–
9
Championship Game: USC 27, California 24
^ - Season II College Football Playoff Participant
$ - Conference Champion
y - Championship Game Participant
x - Division Champion/Co-Champions
Rankings from Final Coaches' Poll
Season III Pac-12 Conference Standings
Conf.
Overall
Team
W
L
W
L
North Division
No. 19 Oregon xy
6
–
2
10
–
4
Washington x
6
–
2
8
–
5
Stanford
5
–
3
7
–
6
Oregon State
4
–
4
5
–
7
Washington State
3
–
5
6
–
7
California
3
–
5
4
–
8
South Division
No. 21 USC xy$
6
–
2
9
–
5
No. 25 Arizona x
6
–
2
9
–
4
UCLA
5
–
3
8
–
5
Colorado
3
–
5
7
–
6
Arizona State
1
–
7
2
–
10
Utah
0
–
8
2
–
10
Championship Game: USC 31, Oregon 28
$ - Conference Champion
y - Championship Game Participant
x - Division Champion/Co-Champions
Rankings from Final Coaches' Poll
Season IV Pac-12 Conference Standings
Conf.
Overall
Team
W
L
W
L
North Division
No. 2 Oregon x$^
7
–
1
10
–
4
No. 14 Washington State
4
–
4
8
–
5
Stanford
4
–
4
6
–
7
Washington
4
–
4
6
–
7
California
4
–
4
4
–
8
Oregon State
1
–
7
3
–
9
South Division
No. 15 USC x
7
–
1
10
–
4
Utah
5
–
3
9
–
4
Arizona State
4
–
4
6
–
7
UCLA
4
–
4
6
–
7
Arizona
3
–
5
6
–
7
Colorado
1
–
7
3
–
9
Championship Game: Oregon 17, USC 14
^ - Season IV College Football Playoff Participant
$ - Conference Champion
x - Division Champion/Co-Champions
Rankings from Final CFP Committee Rankings
Season V Pac-12 Conference Standings
Conf.
Overall
Team
W
L
W
L
North Division
No. 10 Oregon xy
5
–
3
8
–
6
No. 11 Washington x
5
–
3
10
–
3
Stanford
3
–
5
8
–
5
California
3
–
5
6
–
7
Washington State
2
–
6
5
–
8
Oregon State
1
–
7
3
–
9
South Division
No. 1 USC xy$^#
6
–
2
12
–
4
No. 3 UCLA x
6
–
2
10
–
3
Arizona
5
–
3
8
–
5
No. 20 Utah
5
–
3
7
–
6
Arizona State
4
–
4
8
–
5
Colorado
3
–
5
5
–
8
Championship Game: USC 39, Oregon 20
# - College Football Playoff National Champion
^ - Season V College Football Playoff Participant
$ - Conference Champion
y - Championship Game Participant
x - Division Champion/Co-Champions
Rankings from Final CFP Committee Rankings
Season VI Pac-12 Conference Standings
Conf.
Overall
Team
W
L
W
L
North Division
Washington x
6
–
2
7
–
7
Oregon
5
–
3
6
–
7
No. 17 Washington State
4
–
4
8
–
5
Oregon State
3
–
5
6
–
7
Stanford
3
–
5
6
–
7
California
3
–
5
5
–
8
South Division
No. 6 Utah xy$^
6
–
2
10
–
5
No. 16 Arizona x
6
–
2
9
–
4
No. 23 Arizona State
4
–
4
7
–
6
No. 18 UCLA
3
–
5
7
–
6
USC
3
–
5
5
–
8
Colorado
2
–
6
3
–
9
Championship Game: Utah 26, Washington 9
^ - Season VI College Football Playoff Participant
$ - Conference Champion
y - Championship Game Participant
x - Division Champion/Co-Champions
Rankings from Final CFP Committee Rankings
Season VII Pac-12 Conference Standings
Conf.
Overall
Team
W
L
W
L
North Division
Stanford
2
–
0
4
–
2
California
1
–
1
4
–
2
Washington
1
–
1
3
–
3
Oregon State
1
–
1
1
–
5
Washington State
1
–
2
1
–
5
Oregon
0
–
2
0
–
6
South Division
Utah
2
–
0
6
–
0
Arizona
2
–
0
3
–
3
Colorado
2
–
0
2
–
4
Arizona State
1
–
1
2
–
4
UCLA
0
–
3
1
–
5
USC
0
–
2
0
–
6
Championship Game: XX ##, XX ##
# - FBS National Champion
^ - Season VII College Football Playoff Participant
$ - Conference Champion
x - Division Champion/Co-Champions
Rankings from Final CFP Committee Rankings
Members
[
edit
]
Current Members
[
edit
]
| Institution | Location | Founded | Joined | Type | Endowment | Enrollment | Nickname |
| --- | --- | --- | --- | --- | --- | --- | --- |
| University at Albany | Albany, New York | 1844 | FCS Season II | Public | $77.7 million | 17,746 | Great Danes |
| University of Maine | Orono, Maine | 1865 | FCS Season II | Public | $323.0 million | 11,404 | Black Bears |
| University of New Hampshire | Durham, New Hampshire | 1866 | FCS Season II | Public | $404.0 million | 15,400 | Wildcats |
| Stony Brook University | Stony Brook, New York | 1957 | FCS Season II | Public | $360.2 million | 26,814 | Seawolves |
| Merrimack College | North Andover, Massachusetts | 1947 | FCS Season III | Private (Catholic, Augustinian) | $50.56 million | 3,726 | Warriors |
| Bryant University | Smithfield, Rhode Island | 1863 | FCS Season II | Private (Nonsectarian) | $174.2 million | 3,499 | Bulldogs |
| Central Connecticut State University | New Britain, Connecticut | 1849 | FCS Season II | Public | $63 million | 9,546 | Blue Devils |
| Long Island University | Brookville, New York | 1926 | FCS Season II | Private (Nonsectarian) | $96.98 million | 16,958 | Sharks |
| Sacred Heart University | Fairfield, Connecticut | 1963 | FCS Season II | Private (Catholic, diocesan) | $137.02 million | 5,974 | Pioneers |
| College of the Holy Cross | Worcester, Massachusetts | 1843 | FCS Season III | Private/Catholic (Jesuit) | $767.6 million | 3,174 | Crusaders |
| Fordham University | Bronx, New York | 1841 | FCS Season II | Private/Catholic (Jesuit) | $1 billion | 8,220 | Rams |
| University of Rhode Island | Kingston, Rhode Island | 1892 | FCS Season II | Public | $213 million | 16,883 | Rams |
Rivalry Games
[
edit
]
Intra-conference Rivalries
[
edit
]
Teams
Rivalry Name
Trophy
Meetings
Record
Series Leader
Current Streak
Filler
Filler
Filler
Filler
Filler
Filler
Filler
Filler
Filler
Filler
Filler
Filler
Filler
Filler
Filler
Filler
Filler
Filler
Filler
Filler
Filler
Filler
Filler
Filler
Filler
Filler
Filler
Filler
Filler
Filler
Filler
Filler
Filler
Filler
Filler
Filler
Filler
Filler
Filler
Filler
Filler
Filler
Filler
Filler
Filler
Filler
Filler
Filler
Filler
Filler
Filler
Filler
Filler
Filler
Filler
Filler
Filler
Filler
Filler
Filler
Filler
Filler
Filler
Filler
Filler
Filler
Filler
Filler
Filler
Filler
Filler
Filler
Filler
Filler
Filler
Filler
Filler
Filler
Filler
Filler
Filler
Filler
Filler
Filler
Filler
Filler
Filler
Filler
Filler
Filler
Filler
Filler
Filler
Filler
Filler
Filler
Extra-conference Rivalries
[
edit
]
Teams
Rivalry Name
Trophy
Meetings
Record
Series Leader
Current Streak
Filler
Filler
Filler
Filler
Filler
Filler
Filler
Filler
Filler
Filler
Filler
Filler
Filler
Filler
Filler
Filler
Filler
Filler
Filler
Filler
Filler
Filler
Filler
Filler
Filler
Filler
Filler
Filler
Filler
Filler
Filler
Filler
Filler
Filler
Filler
Filler
Filler
Filler
Filler
Filler
Filler
Filler
Filler
Filler
Filler
Filler
Filler
Filler
Filler
Filler
Filler
Filler
Filler
Filler
Filler
Filler
Filler
Filler
Filler
Filler
Filler
Filler
Filler
Filler
Filler
Filler
Filler
Filler
Filler
Filler
Filler
Filler
Filler
Filler
Filler
Filler
Filler
Filler
Filler
Filler
Filler
Filler
Filler
Filler
Filler
Filler
Filler
Filler
Filler
Filler
Filler
Filler
Filler
Filler
Filler
Filler
Conference Championship Game Results
[
edit
]
| | | | | |
| --- | --- | --- | --- | --- |
| Season | Date | Champion | Score | Runner-up |
| I | 9/21/2018 | Washington | 35-31 | USC |
| II | 5/15/2019 | USC | 27-24 | California |
| III | 1/8/2020 | USC | 31-28 | Oregon |
| IV | 9/9/2020 | Oregon | 17-14 | USC |
| V | 5/19/2021 | USC | 39-20 | Oregon |
| VI | 1/26/2022 | Utah | 26-9 | Washington |
| | | | | |
| | | | | |
| | | | | |
| | | | | |
Statistical Feats
[
edit
]
Most Combined Points in a Game: xxx (Season x, Week x, Team 1 vs Team 2)
Most Points in a Game (Single Team): xxx (Season x, Week x, Team 1 vs Team 2)
Most Combined Yards in a Game: xxx (Season x, Week x, Team 1 vs Team 2)
Most Yards in a Game (Single Team): xxx (Season x, Week x, Team 1 vs Team 2)
Most Combined Turnovers Forced: xxx (Season x, Week x, Team 1 vs Team 2)
Most Turnovers Forced (Single Team): xxx (Season x, Week x, Team 1 vs Team 2)
Largest Margin of Victory: xxx (Season x, Week x, Team 1 vs Team 2)
Combined Records of all America East Teams
[
edit
]
| Team | Wins | Losses | Conference Wins | Conference Losses | Best Conference Finish | Best Playoff Result | Best Final Ranking |
| --- | --- | --- | --- | --- | --- | --- | --- |
| Filler | Filler | Filler | Filler | Filler | Filler | Filler | Filler |
| Filler | Filler | Filler | Filler | Filler | Filler | Filler | Filler |
| Filler | Filler | Filler | Filler | Filler | Filler | Filler | Filler |
| Filler | Filler | Filler | Filler | Filler | Filler | Filler | Filler |
| Filler | Filler | Filler | Filler | Filler | Filler | Filler | Filler |
| Filler | Filler | Filler | Filler | Filler | Filler | Filler | Filler |
| Filler | Filler | Filler | Filler | Filler | Filler | Filler | Filler |
| Filler | Filler | Filler | Filler | Filler | Filler | Filler | Filler |
| Filler | Filler | Filler | Filler | Filler | Filler | Filler | Filler |
| Filler | Filler | Filler | Filler | Filler | Filler | Filler | Filler |
| Filler | Filler | Filler | Filler | Filler | Filler | Filler | Filler |
| Filler | Filler | Filler | Filler | Filler | Filler | Filler | Filler |
List of All Seasons By America East Teams
[
edit
]
| Team | Season | Coach | Wins | Losses | Conference Wins | Conference Losses | Conference Finish | Bowl Result | Final Ranking |
| --- | --- | --- | --- | --- | --- | --- | --- | --- | --- |
| Filler | Filler | Filler | Filler | Filler | Filler | Filler | Filler | Filler | Filler |
| Filler | Filler | Filler | Filler | Filler | Filler | Filler | Filler | Filler | Filler |
| Filler | Filler | Filler | Filler | Filler | Filler | Filler | Filler | Filler | Filler |
| Filler | Filler | Filler | Filler | Filler | Filler | Filler | Filler | Filler | Filler |
| Filler | Filler | Filler | Filler | Filler | Filler | Filler | Filler | Filler | Filler |
| Filler | Filler | Filler | Filler | Filler | Filler | Filler | Filler | Filler | Filler |
| Filler | Filler | Filler | Filler | Filler | Filler | Filler | Filler | Filler | Filler |
| Filler | Filler | Filler | Filler | Filler | Filler | Filler | Filler | Filler | Filler |
| Filler | Filler | Filler | Filler | Filler | Filler | Filler | Filler | Filler | Filler |
| Filler | Filler | Filler | Filler | Filler | Filler | Filler | Filler | Filler | Filler |
| Filler | Filler | Filler | Filler | Filler | Filler | Filler | Filler | Filler | Filler |
| Filler | Filler | Filler | Filler | Filler | Filler | Filler | Filler | Filler | Filler |
| Filler | Filler | Filler | Filler | Filler | Filler | Filler | Filler | Filler | Filler |
| Filler | Filler | Filler | Filler | Filler | Filler | Filler | Filler | Filler | Filler |
| Filler | Filler | Filler | Filler | Filler | Filler | Filler | Filler | Filler | Filler |
| Filler | Filler | Filler | Filler | Filler | Filler | Filler | Filler | Filler | Filler |
| Filler | Filler | Filler | Filler | Filler | Filler | Filler | Filler | Filler | Filler |
| Filler | Filler | Filler | Filler | Filler | Filler | Filler | Filler | Filler | Filler |
| Filler | Filler | Filler | Filler | Filler | Filler | Filler | Filler | Filler | Filler |
| Filler | Filler | Filler | Filler | Filler | Filler | Filler | Filler | Filler | Filler |
| Filler | Filler | Filler | Filler | Filler | Filler | Filler | Filler | Filler | Filler |
| Filler | Filler | Filler | Filler | Filler | Filler | Filler | Filler | Filler | Filler |
| Filler | Filler | Filler | Filler | Filler | Filler | Filler | Filler | Filler | Filler |
| Filler | Filler | Filler | Filler | Filler | Filler | Filler | Filler | Filler | Filler |
| Filler | Filler | Filler | Filler | Filler | Filler | Filler | Filler | Filler | Filler |
| Filler | Filler | Filler | Filler | Filler | Filler | Filler | Filler | Filler | Filler |
| Filler | Filler | Filler | Filler | Filler | Filler | Filler | Filler | Filler | Filler |
| Filler | Filler | Filler | Filler | Filler | Filler | Filler | Filler | Filler | Filler |
| Filler | Filler | Filler | Filler | Filler | Filler | Filler | Filler | Filler | Filler |
| Filler | Filler | Filler | Filler | Filler | Filler | Filler | Filler | Filler | Filler |
| Filler | Filler | Filler | Filler | Filler | Filler | Filler | Filler | Filler | Filler |
| Filler | Filler | Filler | Filler | Filler | Filler | Filler | Filler | Filler | Filler |
| Filler | Filler | Filler | Filler | Filler | Filler | Filler | Filler | Filler | Filler |
| Filler | Filler | Filler | Filler | Filler | Filler | Filler | Filler | Filler | Filler |
| Filler | Filler | Filler | Filler | Filler | Filler | Filler | Filler | Filler | Filler |
| Filler | Filler | Filler | Filler | Filler | Filler | Filler | Filler | Filler | Filler |
| Filler | Filler | Filler | Filler | Filler | Filler | Filler | Filler | Filler | Filler |
| Filler | Filler | Filler | Filler | Filler | Filler | Filler | Filler | Filler | Filler |
| Filler | Filler | Filler | Filler | Filler | Filler | Filler | Filler | Filler | Filler |
| Filler | Filler | Filler | Filler | Filler | Filler | Filler | Filler | Filler | Filler |
| Filler | Filler | Filler | Filler | Filler | Filler | Filler | Filler | Filler | Filler |
| Filler | Filler | Filler | Filler | Filler | Filler | Filler | Filler | Filler | Filler |
| Filler | Filler | Filler | Filler | Filler | Filler | Filler | Filler | Filler | Filler |
| Filler | Filler | Filler | Filler | Filler | Filler | Filler | Filler | Filler | Filler |
| Filler | Filler | Filler | Filler | Filler | Filler | Filler | Filler | Filler | Filler |
| Filler | Filler | Filler | Filler | Filler | Filler | Filler | Filler | Filler | Filler |
| Filler | Filler | Filler | Filler | Filler | Filler | Filler | Filler | Filler | Filler |
| Filler | Filler | Filler | Filler | Filler | Filler | Filler | Filler | Filler | Filler |
| Filler | Filler | Filler | Filler | Filler | Filler | Filler | Filler | Filler | Filler |
| Filler | Filler | Filler | Filler | Filler | Filler | Filler | Filler | Filler | Filler |
| Filler | Filler | Filler | Filler | Filler | Filler | Filler | Filler | Filler | Filler |
| Filler | Filler | Filler | Filler | Filler | Filler | Filler | Filler | Filler | Filler |
| Filler | Filler | Filler | Filler | Filler | Filler | Filler | Filler | Filler | Filler |
| Filler | Filler | Filler | Filler | Filler | Filler | Filler | Filler | Filler | Filler |
| Filler | Filler | Filler | Filler | Filler | Filler | Filler | Filler | Filler | Filler |
| Filler | Filler | Filler | Filler | Filler | Filler | Filler | Filler | Filler | Filler |
| Filler | Filler | Filler | Filler | Filler | Filler | Filler | Filler | Filler | Filler |
| Filler | Filler | Filler | Filler | Filler | Filler | Filler | Filler | Filler | Filler |