Purdue Boilermakers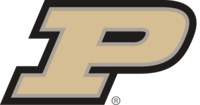 Established in 1869
Names
Purdue Boilermakers (2017-present)
Other Nicknames
Boilers, Train Bois
Conference
Big 10 Conference
Location
West Lafayette, IN
Colors
Old Gold and Black
Head Coaches
Stadium
CFP National Championships
None
Conference Championships
None
Purdue University is a public research university located in West Lafayette, Indiana and is the flagship campus of the Purdue University system. The university was founded in 1869 after Lafayette businessman John Purdue donated land and money to establish a college of science, technology, and agriculture in his name. The first classes were held on September 16, 1874, with six instructors and 39 students.
The main campus in West Lafayette offers more than 200 majors for undergraduates, over 69 masters and doctoral programs, and professional degrees in pharmacy and veterinary medicine. In addition, Purdue has 18 intercollegiate sports teams and more than 900 student organizations. Purdue is a member of the Big Ten Conference and enrolls the second largest student body of any university in Indiana, as well as the fourth largest international student population of any university in the United States.
Traditions
[
edit
]
During "Breakfast Club", best described as a cross between a pep rally and a Halloween party, students and even some alumni dress up in costumes, from traditional Halloween garb to creative hand-made costumes, as they bar-hop before Boilermaker home football games. The Breakfast Club plays a significant role during the football season and is informally a part of Purdue tradition. Many Boilermaker fans are dedicated; getting up at 5 am on Saturdays and lining up at the bars on Chauncey Hill and the levee by 6 am. The Breakfast Club tradition also takes place the day of the annual Purdue Grand Prix race in April.
Rivalry Games
[
edit
]
Logo History
[
edit
]
Not available
Records
[
edit
]
Overall Record: 3-1
Bowl Record: 0-0
Record vs Top 25: 0-1
Record vs Top 10: 0-0
Points in a Game: 56
Yards in a game: 517, 500 passing, 17 rushing
Turnovers forced: 3
Turnovers lost: 1
2018 Schedule
[
edit
]