Temple Owls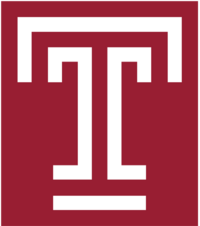 Established in 1894
Names
Temple University Owls (2017-present)
Other Nicknames
Temple, Owls, TU
Conference
American Athletic Conference
Location
Philadelphia, Pennsylvania
Colors
Cherry and White
Head Coaches
Stadium
CFP National Championships
None
Conference Championships
None
Temple University (Temple or TU) is a state-related research university located in Philadelphia, Pennsylvania. It was founded in 1884 by the Baptist minister Russell Conwell. In 1882, Conwell came to Pennsylvania to lead the Grace Baptist Church while he began tutoring working-class citizens late at night to accommodate their work schedules. These students, later dubbed "night owls", were taught in the basement of Conwell's Baptist Temple, hence the origin of the university's name and mascot. By 1907, the institution revised its institutional status and was incorporated as a university.[9][10]
As of 2017, more than 40,000 undergraduate, graduate, and professional students were enrolled in more than 500 academic degree programs offered at sites across the globe, including eight campuses across Pennsylvania, Rome, and Tokyo.[11] Temple is among the world's largest providers of professional education (law, medicine, podiatry, pharmacy, dentistry, and architecture), preparing the largest body of professional practitioners in Pennsylvania.[12][13]
Temple's sports teams, the Owls, compete in NCAA division 1 sporting events.
History
[
edit
]
After going 7-17 in there first two seasons. The Owls athletic director Dr. Patrick Kraft hired Zen Sunshine to lead the owls as head coach.
Traditions
[
edit
]
I'll make something up soon. Eat birds. Shit pellets. Win games. Drink beer.
Rivalry Games
[
edit
]
UConn USF
Records
[
edit
]
Overall Record: 7-17
Season 3 Schedule
[
edit
]
Starters
| | | | |
| --- | --- | --- | --- |
| Num | Name | Pos | Year |
| 11 | Rainan Thunder | QB | Jr |
| 22 | Apollo Del Sol | RB | Jr |
| 19 | Blaze Theravada | WR | Jr |
| 81 | Dazzle Bright | WR | Jr |
| 82 | Joriki Dakini | TE | Jr |
| 44 | Jhana Star | TE/FB | Jr |
| 61 | Sun Yoga | LT | Jr |
| 78 | Nibbana Bliss | LG | Jr |
| 54 | Calm Clouds | C | Jr |
| 63 | Yogi Bask | RG | Jr |
| 71 | Seva Sangha | RT | Jr |
| 52 | Triple Gem | LS | Jr |
| 99 | Joy Amaterasu "The Bronze Leg" | P | Jr |
| 02 | Arya Arhat | K | Jr |
| 58 | Bodhi Sol | RE | Jr |
| 66 | Suriya Atman | DT | Jr |
| 69 | Ra Anapanasati | DT | Jr |
| 90 | Annica Dhamma | LE | Jr |
| 51 | Mojo Risin | SLB | Jr |
| 95 | Pali Aubade | MLB | Jr |
| 57 | Ray Tripitaka | WLB | Jr |
| 20 | Ananda Helios | CB | Jr |
| 23 | Bhavana Mangalam | CB | Jr |
| 32 | Enchantment | FS | Jr |
| 49 | Merriweather Vipassana | SS | Jr |
| 22 | Apollo Del Sol | PR | Jr |
| 81 | Dazzle Bright | KR | Jr |