Colorado Buffaloes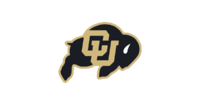 Established in 1890
Names
Colorado Buffaloes (2017-present)
Other Nicknames
Buffs, Cheffs
Conference
Pac-12 Conference
Location
Boulder, CO
Colors
Black and Gold
Head Coaches
toomuchsauce (2017-2018)
Justin Average (2018-present)
Stadium
Folsom Field (2017-present)
Capacity: 50,183
CFP National Championships
Conference Championships
Rivals
University Creed
Sya Thnk Unm
The University of Colorado plays fake football in the Pac-12 Conference of the National Fake Collegiate Athletic Association.
Fake Schedule
[
edit
]
Records
[
edit
]
NCFAA Records
on 3/15/18 Colorado QB Jake Patterson completed a pass to WR Sam Bass good for 99 yards and a touchdown.[1] This is currently the longest touchdown pass in the history of the NFCAA.
---
University of Colorado Records
Rivalry Games
[
edit
]
Traditions
[
edit
]
Too Much Sauce: The student section will chant "too much sauce" when the visiting team is facing third and long.
Cheff Night: All fans wear chef hats and shirts and the stadium is covered in a "white-out." Stadium-wide specials on food and drink along with taco trucks and craft breweries selling their products on-site.
Coaching History
[
edit
]
First Head Coach
The lore of the University of Colorado's head coaching position is rich and full of myths, legends, memes, and sauce. The first head coach hired by UofC was known around the league as "toomuchsauce." He had a way with words and an extensive knowledge of the game of "fotball." Toomuchsauce ran for Pac-12 Conference commissioner repeatedly, even when that position had already been filled. He was quoted in an interview as saying "I want to be comish since I am good at football stuf like this" and later took to twitter to encourage fans of his program to "checkout this cool narwhal game!"
Erratic Behavior
Toomuchsauce insisted on scheduling a spring game. Five times he asked the schedulers for a spring game, culminating in his statement: "spring game anyone i habe ref." He was spotted out on the town at one of the popular undergrad bars "snapping some girls trying date." The coach was noted to be wearing a "cheff hat" and posted a picture on his social media bragging about how cool it was. After a fan confronted him about his behavior he ran away shrieking "boiii i got roats!" He also once sent 10 eggplants to a fellow coach as a peace offering.
He tried to establish himself as the lead anchor on "Fake Sports Center" a show that did not exist. He also hosted a "practice podcast" and claimed to be both the head coach of a football team, and a member of the media.
Strategy was not toomuchsauce's strong point. During the first game of the season he would give his players 15 plays at a time and expect them to remember each play in succession while toomuchsauce would be on the sideline "facetiming his gf." Toomuchsauce was so much of a ladies' man that his team incurred 3 delay-of-game penalties. Two of those penalties resulted in automatic touchdowns for the Kentucky Wildcats and the third penalty gave Kentucky the ball in prime position to score, which they promptly did, extending their lead.
Removal
The National Fake College Athletic Association was less than two months old when it became apparent that too much toomuchsauce was too much for the association to handle. Colorado was halfway through the first game of the season against the Kentucky Wildcats when the decision came down from the commissioners: remove toomuchsauce from the head coaching position immediately. The game was paused indefinitely as toomuchsauce was hauled from the stadium under protest. Fans and players waited around for hours as the authorities dealt with toomuchsauce.
Toomuchsauce tried to repeatedly to regain access to the stadium. He even disguised himself with a mustache and took the name "ecuashcumoot." Authorities were not fooled by his attempts and sent him packing. He was politely told to leave and responded with "ok but could u tell the iowa coach to let me back." After this figure was discovered to be toomuchsauce in disguise he was once again refused entry. Toomuchsauce asked why he was denied his position as head coach and was told that his behavior and unreliability led to his downfall. He responded "i cna comit . just tell them that bro ."
Coaching Change
As toomuchsauce was desperately trying to regain control of his team, the University of Colorado athletic director looked elsewhere for a replacement. justanavrgguy happened to be walking past the stadium and noticed there was much commotion and confusion. He offered to take over as replacement head coach. Justanavrgguy has always been a part time fan of the University of Colorado, ever since he found a t-shirt proclaiming the Buffs to be "2004 Big 12 Conference Champions." Surprisingly enough, just as justanavrgguy was settling in on the sideline and preparing to call the next play, toomuchsauce showed up in the stadium for one last hurrah. The authorities spotted him at the 50-yard-line and banished him for good.
Second Head Coach
Justanavrgguy was hired as the second head coach of the University of Colorado football program on February 26th, 2018. He took over halfway through Colorado's opening game against Kentucky, trailing 34-7. This is his first NFCAA head coaching job. He was hired at CU after taking the Ebbing High Noodlers to the Missouri fake high school state championship game three out of four years. His fake record at the high school level is 49-23.
Justanavrguy had to step down after the third game of Season 1. He now coaches at Campbell University in North Carolina.
Offense: Spread
Defense: 4-3
Starters
Offense

| | | | |
| --- | --- | --- | --- |
| Num | Name | Pos | Year |
| 14 | Jake Patterson | QB | Sr |
| 20 | Elijah Hart | HB | Sr |
| 45 | Anthony Conley | FB | Sr |
| 79 | Brian Devaney | LT | Sr |
| 70 | Tiger Chaput | LG | Sr |
| 75 | Nathan Rachev | C | Sr |
| 76 | Andrew Minnick | RG | Jr |
| 77 | Rory Delgado | RT | Sr |
| 88 | Sam Bass | WR | Sr |
| 85 | Jim Bethea | WR | Sr |
| 84 | Deion Lynn | TE | Sph |
| 7 | Gordie Benson | K | Sr |
| 6 | Thomas Molina | P | Jr |
Defense

| | | | |
| --- | --- | --- | --- |
| Num | Name | Pos | Year |
| 92 | Irving Mann | LE | Jr |
| 98 | Orlando Lambert | DL | Sr |
| 99 | Julius Holt | DL | Jr |
| 96 | Cleo King | RE | Jr |
| 48 | Luke Urdang-Brown | OLB | Sr |
| 56 | Samuel Skinner | MLB | Sr |
| 55 | Bo Haines | OLB | Jr |
| 32 | Hall Mett | CB | Sr |
| 40 | Oran Hayes | CB | Sr |
| 29 | Tyler Brandt | FS | Sr |
| 28 | Dakota Fuller | SS | Sr |
| 18 | Pablo Sanchez | KR | Fr |
| 17 | Wyatt Hicks | PR | Sph |
Second String

| | | | |
| --- | --- | --- | --- |
| Num | Name | Pos | Year |
| 1 | Sloan Gimy | P | Fr |
| 3 | Kyle Gould | QB | Sph |
| 4 | Larry Wilkins | K | Sph |
| 5 | Stephen Murphy | QB | Jr |
| 8 | Nyall Patrice | WR | Sr |
| 9 | Benjamin Strong | WR | Jr |
| 10 | William Brown | WR | Sr |
| 12 | Michael Bowman | SS | Fr |
| 13 | Fionn Gardner | WR | Jr |
| 16 | Mason Mann | HB | Fr |
| 21 | James Tyler | HB | Jr |
| 24 | Henry Shields | CB | Jr |
| 25 | Logan Valazquez | HB | Fr |
| 26 | Leon Higgins | CB | Sr |
| 30 | Josh Newburger | SS | Sph |
| 31 | Finn Wheeler | FS | Jr |
| 35 | Red Valencia | HB | Sph |
| 37 | Jakob Szabo | SS | Fr |
| 38 | Liam Loric | CB | Jr |
| 39 | Noah Chambers | SS | Fr |
| 42 | Tamuch Sauce | CB | Fr |
| 44 | Shane Emory | FB | Sph |
| 47 | Peter Klein | MLB | Fr |
| 49 | Leo Bradshaw | OLB | Jr |
| 52 | Cian Fenner | OLB | Fr |
| 53 | Oscar Marx | OLB | Sph |
| 57 | Christopher McKinley | OLB | Jr |
| 58 | Bill Morrow | OLB | Sph |
| 59 | Willie Eoin | MLB | SR |
| 60 | Ben Padilla | LG | Fr |
| 62 | Jeff Genest | *LS | Jr |
| 63 | Walter Novio | RT | Sph |
| 66 | Lance Carter | C | Sph |
| 68 | Harry Pitts | LG | Fr |
| 72 | Muhammed Cooley | LT | Jr |
| 73 | Craig Blackmarr | RT | Sph |
| 80 | Alan Pritchett | TE | Fr |
| 82 | Isaac Bray | WR | Jr |
| 83 | Cyrus Hong | WR | Fr |
| 86 | Mitchell Salazar | WR | Fr |
| 87 | Max Bell | TE | Jr |
| 89 | Kareen Wood | WR | Fr |
| 91 | Jamie Barnaby | DL | Fr |
| 94 | Ty Abernathy | RE | Fr |
| 95 | Callum Rhea | DL | Fr |
| 97 | Mickey Anderson | LE | Sph |
Injured Reserve

| | | | |
| --- | --- | --- | --- |
| Num | Name | Pos | Year |
| 2 | Tomas Winters | QB | Fr |
| 19 | Gale Leahy | WR | Jr |
| 23 | Alexander Song | HB | Sph |
| 33 | Aaron Decker | CB | Jr |
| 34 | Flip Boone | HB | Fr |
| 41 | Kevin ball | FB | Jr |
| 51 | Kacper Luntz | MLB | Sph |
| 65 | Charlie Patel | RT | Fr |
| 74 | Evan Wolf | C | Fr |
| 81 | Hank Roberts | WR | Sr |
| 90 | Greg Waller | LE | Fr |
| 93 | Cna Comit | DL | Sph |
Recruiting
[
edit
]
Recruiting

| | | | | | | |
| --- | --- | --- | --- | --- | --- | --- |
| Star | Pos | Name | Year | State | Offer | Signed |
| 4 | WR | Mario Alioli | Sr | Colorado | yes | -- |
| 4 | WR | Carl Xato | Sr | Colorado | yes | -- |
| 4 | CB | Ponzu Jiang | Fr | Texas | yes | -- |
| 4 | OLB | Mo Toum | Sr | Florida | -- | -- |
| 3 | WR | Grayson Smith | Sr | Utah | -- | -- |
| 3 | WR | Rick Nyce | Jr | Ohio | -- | -- |
| 3 | CB | Hal Canterbury | Jr | Georgia | -- | -- |
| 3 | MLB | Roy Purdy | Sr | Colorado | yes | -- |
| 3 | HB | Steven England | Sr | Colorado | yes | -- |
| 3 | SS | Harvey Moore | Sr | Nevada | -- | -- |
| 3 | K | Luigi Pecel | Sr | Kansas | -- | -- |
| 3 | RT | Jake Beurre | Jr | Texas | -- | -- |
| 3 | RT | Shiloh Carpenter | Sr | California | -- | -- |
| 3 | LG | Micah Lee | Jr | Nebraska | -- | -- |
| 3 | LT | Aubry Audemar | Sr | Montana | -- | -- |
| 3 | OLB | Greg Bordelaise | Sr | California | -- | -- |
| 2 | QB | Xavier Vincotto | Jr | Colorado | yes | -- |
| 2 | WR | Jacob Truett | Jr | Idaho | -- | -- |
| 2 | CB | Julian Dominguez | Sr | New Mexico | -- | -- |
| 2 | MLB | Derek Schneeder | Jr | New York | -- | -- |
| 2 | LE | Greg Patek | Sph | Arizona | -- | -- |
| 2 | FB | Taylor Mint | Jr | Utah | -- | -- |
| 2 | FB | Billy Garum | Jr | Texas | -- | -- |
| 2 | SS | Bob Remoulade | Jr | Texas | -- | -- |
| 2 | DL | Gale Waggoner | Jr | Iowa | -- | -- |
| 2 | RT | Louie Brown | Sr | Texas | -- | -- |
| 2 | LG | Chris Hogao | Sph | Ohio | -- | -- |
| 1 | WR | Tan Hoisin | Sr | Canada | -- | -- |
| 1 | CB | Miles Orlando | Sr | Nevada | -- | -- |
| 1 | MLB | Jaydon Washington | Jr | Utah | -- | -- |
| 1 | MLB | Will Hublot | Jr | Idaho | -- | -- |
| 1 | HB | Alonzo Carbonara | Jr | Colorado | yes | -- |
| 1 | K | Butch Leghorn | Jr | Texas | -- | -- |
| 1 | DL | Vince Pebre | Sr | Kansas | -- | -- |
Statistics
[
edit
]
Passing

| | | | | | | | | | | |
| --- | --- | --- | --- | --- | --- | --- | --- | --- | --- | --- |
| Num | Pos | Name | Year | Comp | Att | Pct | Yards | TD | INT | QBR |
| 14 | QB | Patterson | Sr | 10 | 16 | 63% | 196 | 2 | 1 | 194.15 |
Rushing

| | | | | | | | | | |
| --- | --- | --- | --- | --- | --- | --- | --- | --- | --- |
| Num | Pos | Name | Year | Att | Yards | YPC | TD | 2pt | Fumble |
| 20 | HB | Hart | Sr | 21 | 96 | 4.6 | 0 | 1 | 0 |
| 45 | FB | Conley | Sr | 4 | 9 | 2.25 | 0 | 0 | 0 |
| 21 | HB | Tyler | Jr | 3 | 7 | 2.34 | 0 | 0 | 0 |
| 14 | QB | Patterson | Sr | 4 | -15 | -3.75 | 0 | 0 | 0 |
Defense

| | | | | | | | | | |
| --- | --- | --- | --- | --- | --- | --- | --- | --- | --- |
| Num | Pos | Name | Year | Tackle | TFL | INT | FR | Block | Saftey |
| 99 | DL | Holt | Jr | 4 | 2 | 0 | 1 | 0 | 1 |
| 92 | LE | Mann | Jr | 4 | 0 | 0 | 0 | 0 | 0 |
| 32 | CB | Mett | Sr | 4 | 0 | 0 | 0 | 0 | 0 |
| 48 | OLB | Urdang-Brown | Sr | 4 | 0 | 0 | 0 | 0 | 0 |
| 55 | OLB | Haines | Jr | 4 | 0 | 0 | 0 | 0 | 0 |
| 56 | MLB | Skinner | Sr | 4 | 0 | 0 | 0 | 0 | 0 |
| 98 | DL | Lambert | Sr | 2 | 1 | 0 | 0 | 0 | 0 |
| 40 | CB | Hayes | Sr | 2 | 0 | 0 | 0 | 0 | 0 |
| 26 | CB | Higgins | Sr | 0 | 0 | 0 | 0 | 1 | 0 |
| 29 | FS | Brandt | Sr | 1 | 0 | 0 | 0 | 0 | 0 |
Kicking

| | | | | | | | | |
| --- | --- | --- | --- | --- | --- | --- | --- | --- |
| Num | Pos | Name | Year | FG | Att | Pct | Long | Missed |
| 7 | K | Benson | Sr | 1 | 2 | 50% | 45 | 52 |
Punting

| | | | | | | |
| --- | --- | --- | --- | --- | --- | --- |
| Num | Pos | Name | Year | Punt | Avg | Long |
| 6 | P | Molina | Jr | 1 | 55 | 55 |